Refrigerator Repair
Do you need professional refrigerator repair for a unit that's leaking, not cooling enough, or even cooling too much? In Salinas and the surrounding area, don't look any further than the refrigeration repair experts at Alpha Appliance. We've been in business in the local area since 2009, and we have a total of 25 years of experience providing refrigerator repairs for residential appliances. You can count on us for superior workmanship and customer service, as well as for some of the lowest prices for refrigerators repair in town. Call or e-mail us today to schedule your appointment with one of our technicians!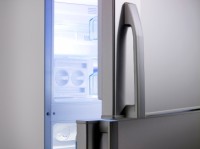 There are a variety of issues that can affect your home's refrigerator, from temperature regulation problems to clogged drains. Alpha Appliance will quickly and accurately diagnose the root cause of your issues and conduct the necessary refrigerator repairs to make your appliance work like new again. Depending on the extent of the problem, you may need us to repair or replace refrigerator repair parts such as:
Evaporator fan
Condenser fan
Door seals
Thermostat
Defrost timer
Door switch
Coolant
Compressor
Whatever your refrigerator repair needs, we'll tackle the job with complete attention to detail and by calling on our accumulated body of knowledge to give you excellent results. We're licensed and insured for all of the refrigeration repair services we offer, with state license #46302. You can always count on Alpha Appliance to work hard to provide the refrigeration repairs that you need to keep your household running smoothly.
Refrigerators Repair on a Budget
When you need refrigerator repair service, it's not a good idea to wait. After all, a broken fridge can lead to you losing all of the food and beverages stored inside, while not being able to keep new items cold and fresh until the problem is resolved. If you've been holding off on calling a refridgerator repair company because you're worried about the impact on your wallet, Alpha Appliance is here for you. In addition to offering exceptional service, we strive to offer reasonable and competitive prices for refrigerator and ice maker repair.
Alpha Appliance is pleased to stand behind our refrigeration repairs with a comprehensive 30-day warranty that covers both refrigerator repair parts and our technicians' labor. If you want to hire repair pros who care about your satisfaction and your appliance's long-term functioning, give us a call! We work on most major brands and models, so whether you need GE refrigerator repair, Maytag refrigerator repair, or repairs for another make, we're ready to help. 
Refrigerators Repair
Refrigeration Repair
Refridgerator Repair