Dryer Repair
Are you living with a clothes dryer that's in desperate need of dryer repair? While hanging your clothes up to air-dry does eventually work, it's not the most convenient or fastest way to get the job done. Get your laundry room back in business with dryer appliance repair from Alpha Appliance. We're the Salinas area's solution to your washer/dryer repair problems, from dryers that won't heat up or tumble to units that are dangerously overheating. We offer reliable, efficient, and safe workmanship, all at some of the lowest prices for washer and dryer repair in town. Learn more about the dryer repair services we offer by calling Alpha Appliance today!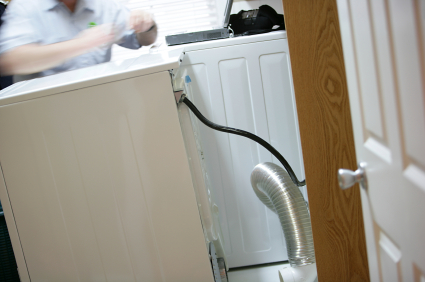 Depending on the specific issues you're facing, your dryer repairs might involve repairing or replacing the:
Heating element
Thermostat
Door switch
Door gasket
Timer
Electronic ignition (gas dryers only)
Drum bearing
Drum belt
Motor
At Alpha Appliance, we take great pride in offering top-quality workmanship. In our 25 years in the dryer repair business, we've seen just about every issue that a clothes dryer can face. We'll call on every bit of that experience in your home or business, ensuring that you get the expert dryer repair service you need to restore convenience and ease to your laundry routine. For your added security and peace of mind, Alpha Appliance is fully licensed and insured, with state license #46302. And, because we offer a 30-day warranty on both dryer appliance repair parts and labor, you can breathe easy knowing you're working with repair professionals who think about your long-term satisfaction.
In addition to offering skilled, knowledgeable dryer repairs, we're pleased to give our customers access to some of the lowest prices in town. Whether you call us about Whirlpool dryer repair, or whatever brand or model you own, we'll charge you a rate that won't break the bank. We believe in making excellence in washer/dryer repair affordable to Salinas-area residents. Call now to get more information!
Coin-Operated Dryer Repair Service
If you're a landlord with coin-operated dryers on your rental property, make Alpha Appliance your only choice for washer and dryer repair. Unlike many other clothes dryer repair companies in the area, we're trained in working with coin-operated units. We'll give you the superior craftsmanship and customer service you need to keep your dryers working as they should for your tenants. For gas or electric dryer repair you can believe in, Alpha Appliance is the company to call. 
Clothes Dryer Repair
Washer Dryer Repair