Dishwasher Repair
Without a working dishwasher, your kitchen routine can get significantly more complicated and time-consuming. If your dishwasher isn't doing its job, don't just roll up your sleeves and suffer through washing your dishes by hand. Call in the dishwasher repair experts at Alpha Appliance. We're your source for dishwasher repairs you can trust in Salinas and the surrounding area. We'll get the job done properly so that your dishwasher can once again be the kitchen time-saver it's meant to be. To learn more about our dishwasher repair service, contact Alpha Appliance today!
We're pleased to offer dishwashers repair for most major brands and models. Whether you need GE dishwasher repair, Bosch dishwasher repair, or Maytag dishwasher repair, we've got you covered. We understand what makes these different models tick. We'll always give you skilled and thorough dishwasher repair service that is tailored to your specific needs because we want you to be satisfied with the experience of working with us.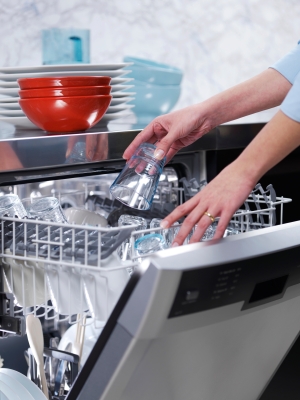 Common issues your unit might experience include:
Dishwasher not draining
Dishwasher not filling
Dishwasher leaking
Dishwasher not starting at all
We can also help you if your dishwasher is giving off strange odors, making unusual noises, or just not getting your dishes clean. We'll always start the dishwasher repair process by thoroughly evaluating your unit. We'll find and repair the root problem, not just the surface symptoms. Whether your dishwashers repair entails fixing the water inlet valves or replacing the timer or overflow switch, when you hire Alpha Appliance, you can expect knowledgeable and complete repair service.
25 Years of Expert Dishwasher Repairs
The Alpha Appliance team has 25 years of experience providing dishwashers repair to residential appliance models. In those years on the job, we've picked up not only an extensive knowledge of the various ways in which dishwashers can malfunction, but also the hands-on skill that it takes to provide you with efficient, effective repairs. If you have a problem with a dishwasher not draining, not filling, or not working in any other way, you can breathe easy with Alpha Appliance on the job.
Contact us via phone or e-mail now to learn more about what sets Alpha Appliance apart from other local dishwasher maintenance and repair companies in the Salinas area. We're fully licensed and insured, holding state license #46302. We offer a 30-day warranty for GE dishwasher repair, Bosch dishwasher repair, and repairs to all other brands. Plus, our rates are among the lowest in the entire local area! Choose Alpha Appliance, and look forward to getting your dishwasher back in action soon. 
Dishwasher Repairs
Dishwasher Rack Repair
Dishwasher Repair Service